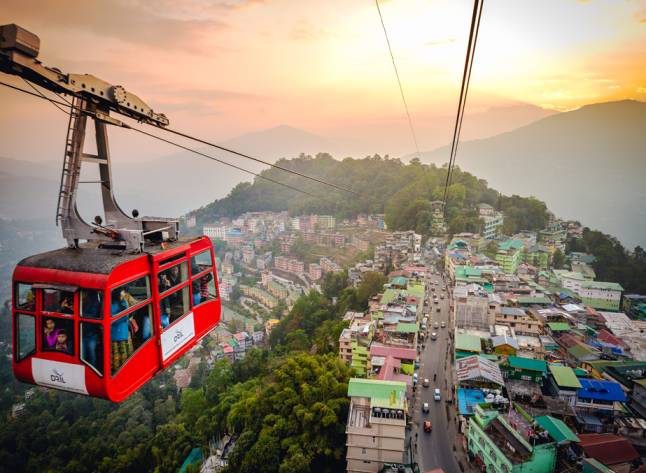 GANGTOK
Introduction:
Sikkim is a state in northeastern India. It borders Tibet in the north and northeast,Bhutan in the east, Nepal in the west, and West Bengal in the south. Sikkim is also located close to India's Siliguri Corridor near Bangladesh. Sikkim is the least populous and second smallest among the Indian states. A part of the Eastern Himalaya, Sikkim is notable for its biodiversity, including alpine and subtropical climates, as well as being a host to Kangchenjunga, the highest peak in India and third highest on Earth. Sikkim's capital and largest city is Gangtok. Almost 35% of the state is covered by the Khangchendzonga National Park.
The Kingdom of Sikkim was founded by the Namgyal dynasty in the 17th century. It was ruled by a Buddhist priest-king known as the Chogyal. It became a princely state of British India in 1890. After 1947, Sikkim continued its protectorate status with the Republic of India. It enjoyed the highest literacy rate and per capita income among Himalayan states. In 1973, anti-royalist riots took place in front of the Chogyal's palace. In 1975, the monarchy was deposed by the people. A referendum in 1975 led to Sikkim joining India as its 22nd state.
Best Travelling places in Gangtok:
Tashi View point – A great view point for watching the Kanchenjunga Snow Peaks on a clear day. Also an excellent place for sunrise view.

Hanuman Tok – A Hanuman temple with a wonderful viewing area. 

Ganesh Tok – A Ganesh Temple with viewing lounge and open balcony. 
You will visit all the points in 3-point tour (as mentioned above) and additionally the following: 
Bakthang Waterfall – Excellent wide water streams falling on a canopy of trees. The fall is located close to Tashi View point by the roadside and also offers great views all around. 

Enchey Monastery – Located on a hilltop, it's one of the oldest monasteries around. 

Flower Exhibition Center – Located near Gangtok town and at one end of The Ridge park, the center has great collection of flowering plants including Orchids (in season though). 

Handicraft Center – This is the building of Directorate of Handicraft & Handloom including a Sales emporium and a Museum showcasing many different handicraft items and artwork created by the local artists and craftsmen. 
Apart from the 7-point attractions above, you will additionally visit the following: 
Chorten Stupa – A famous Buddhist religious monument with a golden dome top which is visible from many places around Gangtok. 

Institute of Tibetology  – A world famous institute doing research on Tibetan language and culture, also has a great museum and library with rare and huge collections. It's located within a short walk from Chorten Stupa. 

Ropeway (Cable Car) – Great ride to view the whole of Gangtok, the valley and the peaks from far above. 
This full day tour covers several attractions outside Gangtok but within about 25kms radius. You will need a larger taxi vehicle like a Scorpio, Innova etc for Ranka and Banjhakri waterfall since the road condition is bad. Taxi drivers with smaller cars are likely to refuse. There are quite a few points and good distances to cover in the hills, so start early (by 8am). You can take your lunch at the cafe at Ganesh Tok area or at the Ropeway point.
Ranka or Lingdum Monastery: About 45 minutes drive from Gangtok, set up on a hill and one of the most wonderful monasteries in east Sikkim. 

Ban Jhakri Waterfall: A great waterfall in a landscaped forest garden. The place is an excellent picnic spot for families. 

Rumtek Monastery: The most famous monastery with grand Tibetan architecture. It was designed after the original one in Tibet. An additional attraction here is the Golden Stupa. 

Nehru Botanical Garden: This is near Rumtek. There is a concrete pathway to take a stroll through the garden with many subtropical trees & plantations. There is a large nursery here for growing Orchids of many types. It also has a children's playground, swings etc. Overall a nice picnic spot. But for the purpose of this tour, you should not spend much time here as time will otherwise run out for the other sights. 

Shanti View Point: A viewing area near Rumtek. Spend a few minutes to watch the great views of Gangtok township at the opposite mountain. 

Enchey Monastery: An old renowned monastery founded in 1800s. 

Ganesh Tok: The Ganesh temple about 6kms away from Gantok with a nice viewing area. 

Ropeway: Great 1km cable car ride across three stations from Deorali to Tashiling 

Institute of Tibetology: Renowned institute on Tibetan Language & culture, also has a great museum and library. 

Tashi View Point: Excellent sunrise and Kanchenjunga viewing area. 
Gangtok best time to visit:
February to June,September to December.
Tour programme:
Day 1-Arrival and Transfer to Gangtok : Guest will be received from at New Jalpaiguri Railway Station (NJP) / Bagdogra Airport (IXB) transfer – Gangtok – (Gangtok the capital of Sikkim at an height of 1670 meters / 5480 feet and is the most visited spot of India. Nearly 135 kilometers 4 ½ – 5 hours drive – Check into hotel – Evening free to roam around M G Road (Mall) or local Shopping center – Over Night stay at Gangtok.
Day 2-Gangtok Local Sight Seeing (Half Day): After breakfast drive for the city tour of Gangtok – Sight seeing will be for half day hence the drive will be easy and comfortable Visit to Directorate of Handicrafts & Handloom, Research Institute of Tibetology, Do Drul Chorten (Stupa), Enchey Monastery, White Hall, Flower Show, Garden Ganesh Tok, Hanuman Tok, Tashi View Point, Banjhakri Falls, one of the finest falls close to Gangtok, etc – Back to hotel – Evening free to roam around M G Road (Mall) or local Shopping center – There are few discotheques in Gangtok to spend time – Over Night stay at Gangtok.
Day 3-Excursion to Tsomgo Lake & Baba Mandir (Full Day : Morning breakfast at hotel – Excursion to Tsomgo Lake & Baba Mandir (New) nearly 40 kilometers – The Lake is oval shaped lake nearly 50 feet deCP – Generally covered in snow for most of the year the year – This lake is home to the Brahmini ducks & many migratory birds – Nearby is the sacred Baba Mandir known to be a very holy site for all Back to Gangtok – Evening free to roam around M G Road (Mall) or local Shopping center – Over Night stay at Gangtok (Incase of Landslide or due to any other reasons if Tshangu Lake is closed then an alternate sightseeing will be provided). Note : Nathu La Pass to RCPublic of China is nearly 20 kilometers and is optional tour on Extra Cost( if permit is available).Over Night stay at Gangtok.
Day 4-Departure – Gangtok to Siliguri / New Jalpaiguri Railway Station (NJP) / Bagdogra Airport (IXB): Nearly 135 kilometers 4 ½ – 5 hours drive – Guest are advised to start early and not to rush – Forwarding Journey.
Transport:
By road u can cover Gangtok.
Book Car Just call – 9903277934/7278582057
Nearest station- New Jalpaiguri(NJP)
Nearest Airport- Bagdogra(IXB)

You May Also Like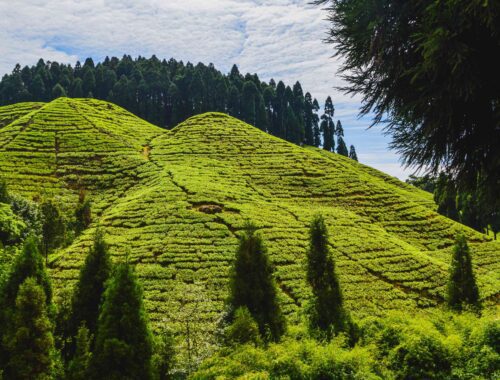 November 4, 2022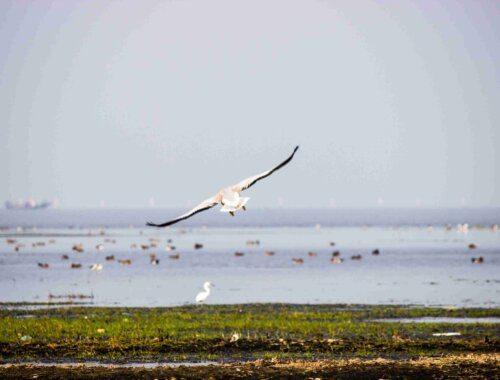 September 28, 2022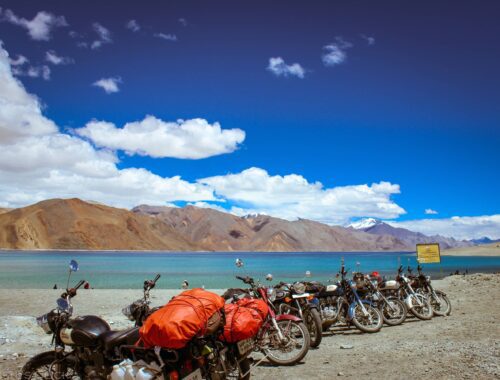 September 24, 2022